top 10 reasons why catfish (see fluffy grey whiskered animal wearing either his "i'm-too-sexy" face or his "is-he-18-yet?" face) is the best cat in the world.
10. soft silver fur compells you to touch him at all possible times.
9. soft silver fur will sell for pretty penny should we ever go broke.
8. despite mass body weight, sounds more like a mouse than a cat
7. always eats food lying down.
6. refuses to drink out of water bowl. prefers toilet.
5. can barely jump up on the couch due to 20 pound belly. this is real-live comic relief.
4. allows himself to be chased and tackled by baby constantly.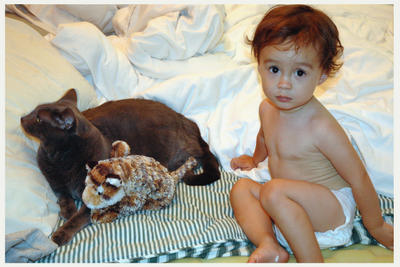 3. allows baby to use him as personal stacking toy, covering him with animals, blocks, trucks, food, etc.
2. is very protective of baby when he cries, circling me and meowing, to make him feel better.
and the number one reason catfish is the best cat in the world: forgives baby every night and lets him complete a full day of torture all over again.