(gaah(n) wearing "mugzu" shirt)
this weekend felt like the scent of my college days. it was nothing close to the pure beauty of jamming out and growing in the presence of people who care about the real values of life because adulthood was still years away from it's attempt at oppression. but it certainly felt familiar.
i've a friend named gaah(n). i formally met him in london at the changing of the guards. he was on the same "ambassadors of music" tour as i was. strangers in a strange land together, we became fast friends and lo and behold he lived in little rock, arkansas where i was soon to move.
the dedication of the friendship was wonderful as to get together for anything required a drive. i can't count how many visits gaah(n) blessed me with while i was at college, while i was in hamburg and while i was in memphis. gaah(n) lived in denton, texas and i made my first trip to this big state with him to watch a dallas, stars game. he even paid for my ticket as a birthday treat.
and he saw more beauty in my writing and music than i did which helped me really search out my purpose and insight in writing music through his comments and critisizm and the value i carried for his opinion. he even recorded me playing the piano once and used it as an intro to a poem i wrote that he had transcribed to song. we wrote another song together called "train to donaghey." i can't explain the honor at these things, as not only is gaah(n) a kind, determined, and honest man, gaah(n) is a bonafide musical genius. you name it and he can play it, i swear to god. but, piano. gad, you should hear the man go. he also has the amazing ability of tracing any negative thing back to bush. all this and he's
adorable
.
i'm brimming with college memories that include gaah(n). i revel in the times we'd have a giant party at our apartment, everyone all hippied out and, umm, "enlightened," and gaah(n) would play a beatles abby road medley and we'd sing the whole 30 minutes or so of it. every word. i remember the annual christmas party with the annual christmas rituals. i remember . . . .ahhh. far too much to be writing here.
gaah(n) is currently in a band called bagg. (website address coming soon) we went to a fantastic bagg show our very first day in dallas. and since that night, i have done a shameful job of supporting gaah(n) musically, or keeping in touch. shameful. granted, i got pregnant a couple months after that first show, and then, well, there's the baby, and all that energy i used to have to support people and music went quickly and directly to support myself and penn, but that can't excuse everything.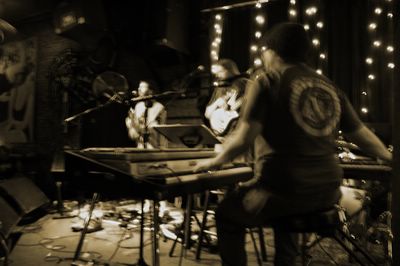 gaah(n) called yesterday to come over before they played club dada. i was ECCSTATIC! but, i just had to run my glasses to the shop to get fixed so i could finally take my contacts out and not be legally blind----time it should take: less than an hour. time it actually took thanks to something i'll write about later plus traffic: more than an hour. and i missed the amazing gaah(n) by 20 minutes.
i came home and looked for something hard to bang my head against. and then i called mary and we went to the midnight show where i got all filled up on bagg and gaah(n) and being out in part of the world i don't get out in often enough.
after the show mary and i went to cafe' brazil for nachos and lattes and a giggle fit that lasted, i swear, 10
minutes straight, till we were crying and our sides split right off.
all because of these quotes:
"hell yeah, little kid!"
"can we just be honest now?"
"i could have killed her long distance."
"cheated on me and that girl got pregnant. moved away. moved away. thought he was going to cheat on me and didn't want to. and they all cried."
"you're not dying and it's not your birthday, so fuck off."
her: "but i tend to really like assholes." me: "well, that's your problem.
"it's in my esophagus."
i'm desperatley sorry about my lack of dedication to such a rewarding friendship. apologies are meaningless now. all i can say is that i'm going to try harder to get a babysitter, damnit and if i fail, it's not because i don't love you gaah(n)!